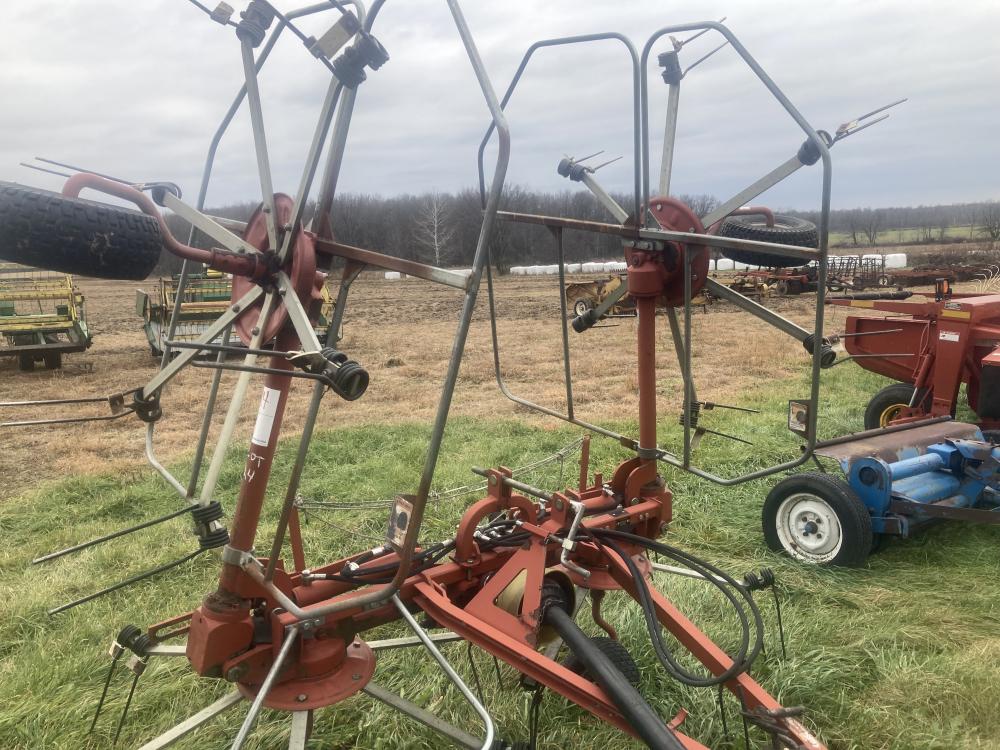 From Auburndale; West on Old Highway 10 1 Mile to Farm
Wednesday, February 28, 2018 - 12:00 PM
Parcel 1-Home, Milking Barn, Machine Sheds and Silos
Approximately 28.6 acres of land (25.76 Crop Acres)

House: 4 bedroom story and a half home with 1 & 3/4 baths, approximately 1400 square feet of living space. Home features steel roof, vinyl siding, forced air oil heat, full basement, 200 Amp service and 50 gallon electric water heater.

Attached garage: Insulated 27ft x 30ft garages with two overhead doors w/openers and concrete approach, vinyl siding and steel roof matches home.

Galvanized steel machine sheds: Overall dimensions for building are 40ft x 120ft x 12ft and 40ft x 80ft x 14ft. Both sheds have dirt floors with the smaller one housing an 11ft x40ft granary.

Silos and bins: 18ft x 6ft stave silo with Hanson surface drive unloader. 16 x 60 stave silo with Feed Easy ring drive unloader

Dairy Barn: 40ft x 120ft single story barn with 57 stalls measuring 4ft x 5.5 ft. Also attached 40ft x 100ft older 2 story barn with 14 tie stalls and 6 calf stalls and pens. Barn features Nesseth manure pump, berg barn cleaner, vinyl manger liner, 2- 48" fans.

Milking equipment includes: 800 gallon Delaval Bulk tank with autowash, Delaval pipeline milking system with 2" line, 6 milking units 2 inch vacuum line with balance tank, 5hp Delaval vacuum pump, plate cooler and 50 gallon electric hot water heater located in a 20ft x 20ft milkhouse.

Other features: Approximately 6200 square ft concrete cow lot with 60 headlocks and fence line feeding and 90ft x 120ft earthen manure lagoon

Parcel 2:
Approximately 79 acres of land (66.22 Crop Acres)
Parcel 3-Heifer Barn, Shed and Silos
Approximately 49.6 acres of land (48 Crop Acres)

Machine Shed: 46ft x 64ft x 14ft corrugated steel shed with 40ft x 48ft x 14ft addition.

Barn: 36ft x 72ft 2 story older dairy barn with 36ft x 72ft single story addition. Barn features 2 Patz barn cleaners and 2 Agromatic manure augers. Single story barn features 20 stanchions and drive in barn cleaner room. Older barn features. 37 stalls and one pen. Barn has large concrete lot outside.

Silos: 2- 16 x 60 stave silos with Van Dale unloaders.

Parcel 4:
Approximately 49.1 acres of land (41.8 crop acres)


Parcel 5:
Approximately 6.88 acres of land (all crop acres)
Terms of Sale:
Successful bidder(s) will be required to sign a Wisconsin offer to purchase and other forms. Sale is for cash offers only (No contingencies) Successful bidder(s) will be required to deposit 10% earnest money down with broker (nonrefundable if buyer is unable to close) NO BUYERS FEE! Property is sold "AS IS" with no warranties expressed or implied from sellers or seller's agent. Sellers will have 10 calendar days to accept or reject all offers Closing be within 45 days from date of acceptance with seller providing clear title and appropriate owners title policy. No warranty or authoritative representation is made with the respect to gross acres, tillable acres with any parcel or set of parcels. Buyers are encouraged to make their own inspections and acreage determination. Property is sold to all easements of record and state and local ordinances. For more information and receive buyer's packet contact Christensen Sales Corp, Abbotsford, WI 715-223-6345
Jerry Kieffer- Lisa Kieffer

CHRISTENSEN SALES CORP., ABBOTSFORD, WI 54405
SALES MANAGER PH 715-223-6345
REGISTERED WISCONSIN AUCTION CO. NO. 33